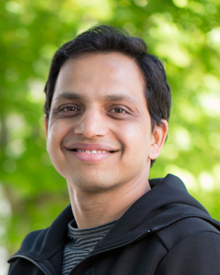 Research profile:
Interested in research on topics related to parallel computing including networks and communication, data analytics for performance and optimization, parallel algorithms and their applications.
Obtained his Ph.D. with Prof. Laxmikant Kale, CS@UIUC.
Awarded the IBM PhD fellowship in 2014 and the Andrew and Shana Laursen fellowship in 2011.
Holds a bachelor's and a master's degree in Computer Science and Engineering from IIT Kanpur.
Work/Education History
Feb 2016: Ph.D., Department of Computer Science, University of Illinois at Urbana-Champaign
May 2014 - Aug 2014: Summer Intern, Lawrence Livermore National Lab
May 2012 - Aug 2012: Summer Intern, Lawrence Livermore National Lab
Jan 2011 - June 2011: Visiting Researcher, Department of Computer Science, University of Illinois
June 2009 - Jan 2011: Researcher, High Performance Computing Group, IBM Research - India
May 2009: M. Tech., Computer Science and Engineering, Indian Institute of Technology, Kanpur
May 2009: B. Tech., Computer Science and Engineering, Indian Institute of Technology, Kanpur
May 2007 - July 2007: Research Scholar, Polytechnic Institute of NYU
Website last updated: Dec 30, 2017