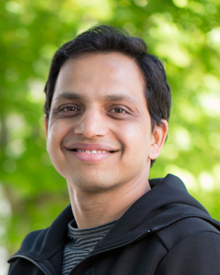 Reserch profile:
Interested in research on topics related to parallel computing including networks, parallel algorithms, communication optimization and interoperation of languages.
Obtained his Ph.D. with Prof. Laxmikant Kale, CS@UIUC.
Awarded the IBM PhD fellowship in 2014 and the Andrew and Shana Laursen fellowship in 2011.
Holds a bachelor's and a master's degree in Computer Science and Engineering from IIT Kanpur.
Work/Education History
Feb 2016: Ph.D., Department of Computer Science, University of Illinois at Urbana-Champaign
May 2014 - Aug 2014: Summer Intern, Lawrence Livermore National Lab
May 2012 - Aug 2012: Summer Intern, Lawrence Livermore National Lab
Jan 2011 - June 2011: Visiting Researcher, Department of Computer Science, University of Illinois
June 2009 - Jan 2011: Researcher, High Performance Computing Group, IBM Research - India
May 2009: M. Tech., Computer Science and Engineering, Indian Institute of Technology, Kanpur
May 2009: B. Tech., Computer Science and Engineering, Indian Institute of Technology, Kanpur
May 2007 - July 2007: Research Scholar, Polytechnic Institute of NYU
Availability based on Google Calendar
Website last updated: Aug 13, 2017